It is fairly common to think of a construction project as either new construction (ground-up) or a renovation. There are many similarities between the two, but also some notable differences. Follow along with this article to learn the key differences between ground-up construction and renovation.
What is Ground-Up Construction?
Ground-up construction is a project that starts by building a new structure on undeveloped land and works through several phases towards a finished building. Each project phase is important, and where it starts to differ from a renovation.
What are the Phases of Ground-Up Construction
Preconstruction Services
The preconstruction services phase involves:
Creating strategic project plans and designs.
Obtaining permits and other necessary building documents.
Hiring labor and contractors.
Other essential project resources.
In both a renovation and a ground-up project, the preconstruction phase is important to the success of a project. However, this phase tends to be longer in ground-up construction as more steps are needed. There may be more permits involved and additional specialists required, such as an excavation team, to build the foundation.
Construction
The hard work of planning comes to life during the construction phase. Common ground-up construction includes but is not limited to the following:
Excavation
Foundation
Structural steel
Insulation
Electrical and plumbing
Walls/flooring
Windows/doors
Inspections
Post Construction
The post-construction phase is an important part of the ground-up construction project. While this generally means the project is ready to turn over to the owners, several steps are needed to finalize the project. All inspections are complete during this time. Additionally, the project supervisor will walk through a final punch list, ensuring no outstanding items are left on the list. During this time, a professional clean-up crew will help ensure everything is in pristine condition. Finally, all documents will transfer to the owner.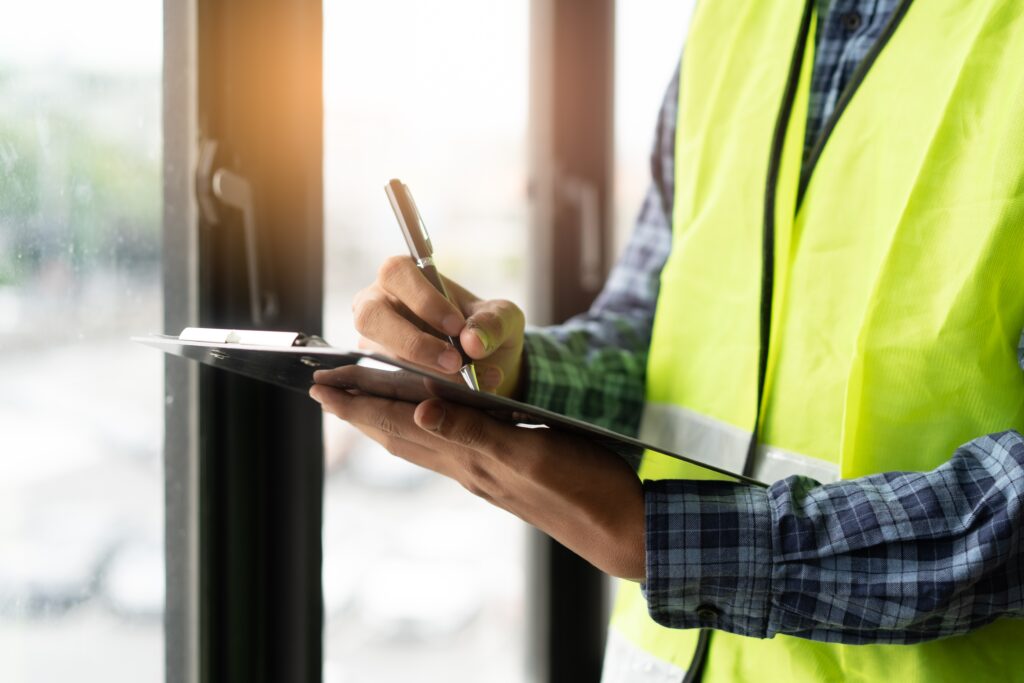 What is Commercial Renovation?
Commercial renovation involves updating or remodeling a building. The main goal is to expand or repurpose existing space These structures can be offices, retail spaces, medical facilities, or any other commercial business that needs to buy or rent a space. Much like a ground-up project, planning a commercial renovation involves many of the same steps.
What is involved in Pre-Construction Renovation?
While planning a renovation, designers must review the current building blueprints and may need a structural engineer to help determine what is possible with the remodel. For example, if the project requires creating an open floor plan, the building must be structurally sound to begin removing load-bearing walls. Reviewing current HVAC, electrical, and plumbing are also important to understanding what additional resources the project needs. In addition to all of the checks and balances, the architect and specialty subcontractors complete their designs and renderings.
Renovation Construction
Renovation differs from ground-up construction because a renovation involves a great deal of demolition. As mentioned earlier, it is important to ensure major changes that may affect the structure of the building do not also affect demolition. Sometimes crews will construct temporary supports to ensure safety. Construction continues and includes additional HVAC, electrical, plumbing, design, and expansion work.
While it may sound like extra work needed in the renovation construction phase, cost and time savings are two of the biggest advantages of renovating.
Renovation Post Construction
The final phase of the renovation process includes a project walkthrough. The project supervisor checks off the last punch list items. Inspections are necessary to verify all work is up to building and city codes. Once complete, the building owner receives any required paperwork.
While ground-up construction and renovations are similar during the construction and post-construction phase, some of the most notable differences happen during pre-construction planning. Whether you need a brand new building or wish to update an old space, Division 9 Commercial Construction can help bring your project from vision to reality.