If you are ready to start or expand your retail business, hiring the right contractor to build your dream is important. With these 10 questions, you will have the tools you need to find the best fit for your retail project needs.
What kinds of projects have you worked on in the past?
Not all retail contractors are the same. Some may have experience working on large-scale projects like a big box store, while others specialize in franchise projects. For example, do you typically work in retail or office spaces? Understanding a construction manager's experience, qualifications, and licenses can help you decide who to choose.
You can also ask for referrals from past customers. If possible, ask if you can visit the project site. This way, you can get a firsthand view of their work.
What are the trends you see in the industry?
A good commercial construction manager follows the trends and pays attention to where the industry is heading. Eco-friendly commercial construction and green building materials are not just a trend. The green building movement is the future of construction. Your construction manager should also know what design elements are popular, color pallets, and features.
What types of construction challenges have you encountered?
At some point, we all face work challenges, especially in construction. Even if no fault lies in the construction manager, how they handle the situation makes all of the difference. Look for how they answered the question and how they rectified the problem.
What documents and licenses are needed before the construction project starts?
Every construction project is different. Whether it is ground-up construction or a renovation, or in a large or small city, additional permits and licenses are needed for the project itself. Regardless of the necessary permits for your project, all staff should be bonded and licensed, and your insurance policy may also require it. Be sure to ask if the construction manager's crew and all subcontractors have the proper documentation before work begins.
Who do you subcontract work to?
Depending on the scope of your project, specialty subcontractors may be needed. Ask if the construction manager works with a particular company or individual or if you can bring in a vetted and approved referral. If you choose to proceed with their recommendations, be sure to ask for names and their project experience. While it may seem obvious, remember to ask if you hire your subcontractor, will they help manage them or other vendors?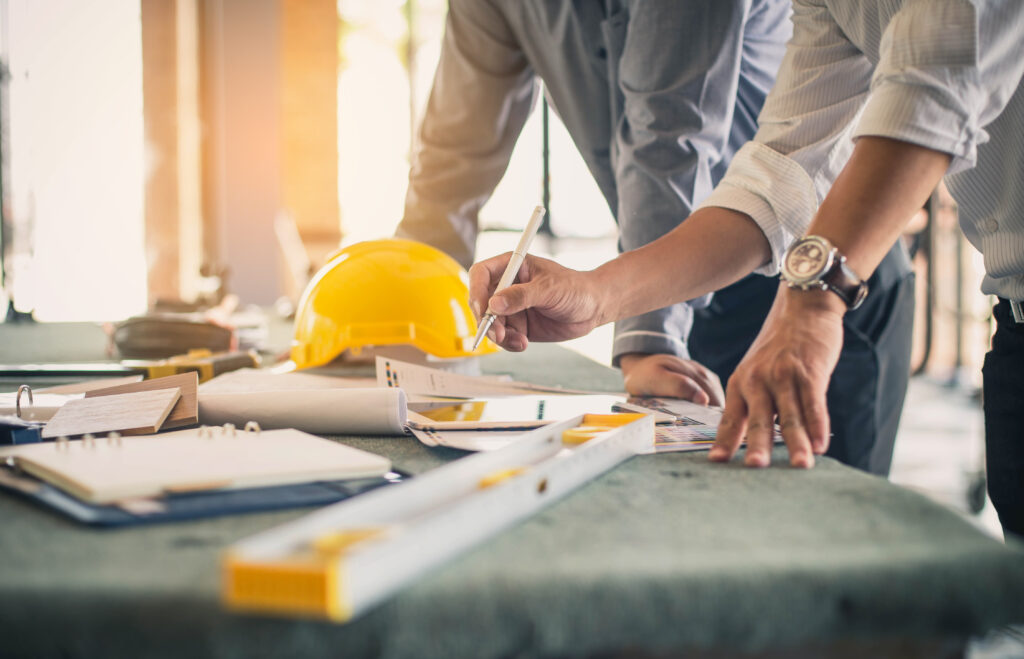 How do you communicate updates with me?
Establishing a communication schedule helps both parties stay on track and the project moving forward. Don't be afraid to ask how your construction manager prefers to send updates. Some managers prefer a hands-on, onsite meeting, while others may want to send emails with photos and videos. Make sure you are comfortable with how often they plan to communicate and how they communicate. If you wish to see your project and it is safe to do so, creating an onsite visitation schedule can help ease worries and keep the line of communication clear.
Will you ever work on something without approval?
This is a very important question to ask. Some minor issues may not need your approval. However, major changes to the plans should require your final say. It is another reason why you need to establish a communication schedule.
How do you plan for the unknown?
If the last few years taught us anything, it is to plan for the unknown. Supply shortages in 2020 and 2021 drastically affected the construction industry. Your construction manager should be able to have a contingency plan for any circumstance. A few common industry setbacks include:
Supply shortage
Supply price increase
Problems uncovered, such as structural issues or behind-the-wall damage
What makes you different from your competitors?
Every construction manager is unique; they have their strengths and weaknesses. So, ask them this question to know if their strengths suit your project needs and if their shortcomings are insufficient to hamper the project.
When is payment due?
While payment in full before construction is not typical, you may be required to put a percentage down. After, it is standard to pay in installments or draws. Know what your payment schedule is and what happens if payment is delayed. At the same time, be sure to ask what happens if materials' pricing increases during the build. If prices increase too much, this can greatly affect the rest of the project.
Division 9 Commercial Construction can help answer any of the above questions. If you need an experienced commercial construction team, contact us to get started. We will help turn your vision into reality.