As a building or commercial property owner, your main goal is to keep your space occupied by tenants. Commercial properties like office buildings and retail spaces often flip tenants many times. Each time a commercial property has a new tenant, minor repairs and updates help make the property more desirable for new tenants.
While each tenant may be unique in their business and have their own larger-scale requests, there are standard necessities for each tenant flip. Below is a list of the most common tenant improvements.
HVAC Commercial Repairs
HVAC repairs and updates are common commercial property improvements. Repairs include retrofitting existing units with updated parts to improve older units, adding special filtration systems, and incorporating energy-efficient ducts, fittings, and more. After 15-20 years, it may be time for an all-new HVAC system. It is common to replace older systems with newer, eco-friendly units. Many of these units can help improve not only air quality while reducing our carbon footprint, but they can also help reduce energy consumption which in turn reduces usage costs.
Electrical Updates in Commercial Properties
Every business needs electricity to operate. However, electrical needs will vary based on their service offerings. For example, ad advertising agencies rely heavily on technology like wifi and AV systems. Ensuring the space has enough power, connections, and wifi is important. If a tenant requests a floor plan change like build-outs or open concept, rewiring and additional lighting could be required to accommodate the new layout.
Basic Plumbing Repairs
When a new tenant is ready to take over your commercial space, updates to plumbing are a common request. Common plumbing repairs include:
Adding sinks for break rooms and kitchens.
Adding water foundations.
Updating bathrooms, especially for ADA compliance requirements to accommodate access for guests and employees.
Painting and Cosmetic Updates
Painting is one of the simplest and most impactful tenant improvements you can make. Typically, someone completing a paint job will also patch holes and trim to help freshen up a space. A fresh coat of paint brightens a room and can help a tenant envision their future office, restaurant, retail space, or whatever they need. It also provides your tenant the opportunity to start with a clean slate when it comes to their unique design ideas. They may need additional work to keep making their space their own, but the basic repairs are very helpful and can add a lot of value.
Carpet & Flooring for Commercial Spaces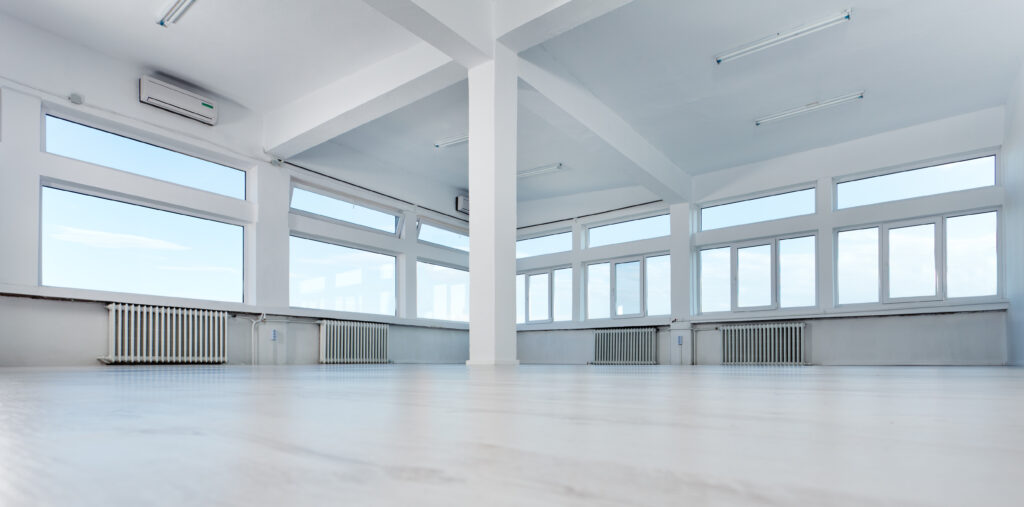 Flooring in a commercial space will be unique to not only the tenant, but the building as well. In a larger area such as a warehouse, options may be limited to a stronger material like concrete or epoxy. However, an office space may function better with carpet, tile, wood, or laminate flooring. As a commercial building/space owner, you will know the types of tenants you want to rent to and their needs. It is advisable to replace the flooring whenever you have new tenants, or be willing to make minor repairs and cleaning.
Windows and Doors
Nowadays, windows have a general lifespan of about 15-20 years. While you do not need to replace windows with every new tenant, it is important to ensure your windows are in good shape. Some tenants may have signage such as vinyl lettering or window paint that can affect the UV coating on a window. Be sure to check with your window manufacturer to see if the windows require special treatment for cleaning.
Consider updating window treatments and trim. The previous tenant may have different needs with their windows. A retail space will want a more open concept, whereas an office may prefer privacy. Understanding your tenant's needs can help you make just the right improvements. If you completely remove window treatments, check that the trim and walls surrounding the windows are free of holes or damage.
Updating the Floor Plan in Commerical Buildings
DWith your commercial space, you should be willing to make minor adjustments to the layout to attract tenants or appease a potential renter. For example, an open-concept layout may still want a few conference room build-outs. Adding walls to build out a room for your tenant is very common and a great way to improve the functionality of your space. As is removing walls. Depending on the nature of the business, they may need larger than standard office rooms, especially if they are a medical practice and may need treatment rooms that require medical equipment.
As a commercial building owner, tenant repairs and updates are part of the job. Investing in improvements and being willing to accommodate can help attract the right tenants. Be sure to budget for regular improvements as well as major routine repairs. The more you can accommodate renters, the more likely you can find just the right one.
At Division 9 Commercial Construction, our team has the experience to help update and improve your commercial building for your tenants. If you need improvements for your space, contact us today, and our team can help review your needs.